I have taught since 2001. Lots of students. Check out list of my students , you might have known some of them. If you know them, or you are in the same school, ask them about my tuition.
Testimonials from my former students
You can see testimonials from my students before decide to have tuition. I put them here. I should have collect more. I have lots of students since I started teaching in 2001, but I did not collect their testimonials.
Anderson Secondary School
"He teaches in a very clear and concise manner, therefore enabling me to understand even the most complcated topics with utmost ease. Thanks Mr Sie. You've been Great!!!"
Sunny Yoon,Bedok GreenSecondary School
"Thanks Mr Sie, Your Tuition helps me a lot.Now I am confident to face 'O' level."
Anderson Secondary School
"
Mr Sie's tuition really helped me
improve my grades. He has a wonderful way of teaching, making everything easy to understand and fun. He has made even the most complex topics simple and has encouraged us to ask questions. He always goes out of the way to help us and clarify our doubts.
Minu is one of my brightest students. On our last tuition before 2008 Chemistry O level test, I promised my students that anyone who get good result in O level will get a present from me.
And good result she got! She had 7 O level points, minus 4 points. So 3 O level points!!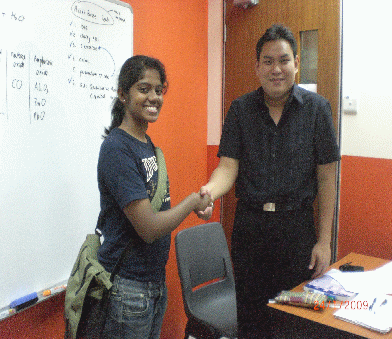 Me giving present to Minu. She was all smiles that day. Fun. This photograph is resized to make me look a bit slimmer. Now she is in VJC.